JN Cayman... Our aim is to help all members of the Caymanian community,
find a way to financial wealth.
1992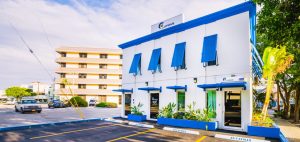 In 1992, the Jamaica National Building Society (JNBS) put down roots in the Cayman Islands, establishing a partnership with the National Building Society of Cayman (NBSC). Ten years later, in 2002, JNBS acquired majority ownership of NBSC.
2015
In 2015, NBSC was rebranded JN Cayman to underscore the organisation's full alignment and synergy with its well-known Jamaican majority owner.
JNBS was undergoing its own transformation, and in 2017, the 142-year old building society was restructured. The Jamaica National Group Limited and JN Bank Limited, the third largest commercial bank in Jamaica, were established.
2020
The Jamaica National Group embarked on a mission to further expand its footprint and reach globally, with the establishment of the first-ever Caribbean-owned commercial bank in the United Kingdom in October 2020.
Licenced and registered by the Cayman Islands Monetary Authority (CIMA), JN Cayman provides a range of financial products and services to the people of The Cayman Islands.
It is firmly rooted in the legacy and philosophy of The Jamaica National Group, and similar to its parent, JN Bank Cayman is fully focused on improving the lives of the people it serves in the Cayman Islands and around the world, so that, together, with its customers and clients, it can actualise potential and make a difference.
Mission
Using innovative solutions to unleash the potential of our customers

Vision
A globally respected brand – boldly finding ways to enrich lives and build communities
Values
We value our members and stakeholders and promise to be:
Dependable – We are reliable and will always keep our word
Authentic – We remain true to our foundation and enriching the lives of all peoples
Respectful – We treat all persons with courtesy, politeness and kindness
Transparent – We operate in an atmosphere of openness, communication and accountability